SCHEDULE
We are currently scheduling all regions of North America for 2023
AMY AND GARY LIVE IN TULSA (With Elise)
Beautiful Scars (Acoustic) - from the CD - The God of All Joy
Video: John Grooters

CONTACT
GARY WIXTROM • 615-364-6161 • amyshreve@aol.com • gary@amyshreve.com
PROMOTIONS
We will send you a variety of files for promoting the service or concert.
Photos, Posters, Press Release, Testimony, and Videos
Below is an example of a press release and an e-poster
AMY SHREVE PRESS RELEASE
PRESS RELEASE TEMPLATE FOR AMY SHREVE
Amy Shreve will be hosted by (CHURCH) in (CITY) for a Concert on (DATE) at (TIME) (edit)
Amy a, singer, songwriter, and harpist will be joined by her husband and producer, Gary Wixtrom, backing her with guitars and mandolin. Amy has performed with the ukulele, guitar, and piano on stage as early as five years old. At eleven she began mastering the harp. Graduating with a music degree from Wheaton College, Illinois, Amy landed in Nashville to pursue amusic career. After signing her first record contract with Sparrow she was immediately signed as a staff writer at Birdwing music where she honed her skill as a writer.
She has opened for Larry Carlton and Michael McDonald, performedat the NRB and Praise Gathering, and has worked with Tommy Sims (Bruce Springsteen), Norbert Putnam (Dan Fogelberg), Brian Hardin (Motown), and Peter York (EMI). Amy has recorded sixteen records for six companies and has been nominated for a Dove Award. Her musical influences Michael Card, Counting Crows, Lifehouse, Evanescence and several Irish artists including Enya have helped her develop her musical style. Co-writing and arranging with her husband has added a pop element to the music. The result is an appealing alternative sound.
Amy will singing her upcoming releases Eden and Take Me Away. Her previous release, The God of All Hope (2018) was her last in a series of Anthology albums. In 2010, a sixteen song vocal CD called The God Of All Comfort, the first in Amy's Anthology series, was signed and is distributed by DHM a division of RBC Ministries and with Zondervan. Since then, The God of All Joy (2012), featuring the songs Beautiful Scars and Afraid Of the Dark, and The God of All Grace (2013), a follow up hymns release also distributed by DH. Author and speaker, Dee Brestin contracted the use of 10 songs from Amy's first anthology record to use in her study guide to her book The God of All Comfort, as well as syncing Amy's songs to many of her teaching videos. In 2018, Fellowship for Perfoming Arts, founded by Max McLean, in NYC used Amy's arangement to A mighty Fortress in their touring production of Martin Luther on Trial.
Amy tours the US, Canada, and Europe.
She speaks and performs at churches, universities, and conferences, including leading worship at over 200 conferences for 'The Voice of the Martyrs'.
In 2015 Amy and her family found themselves in the middle of tragic situation that God used to test their faith and trust in Him. Through it all, the good and the bad, there is no doubt that He is a good God. Amy's message of God's perfect peace in the midst of difficulty through the music will comfort you, encourage you, and will challenge you to fall in love with a God who cares deeply for you.
The Church is located at (ADDRESS) The concert is free, an offering will be received. All are welcome. (edit) END
SAMPLE E-POSTER
We will also design the poster with your direction
You can:
Print out and place • send to email lists • post on social media • add to website
300 dpi @ 8.5 x 11 inches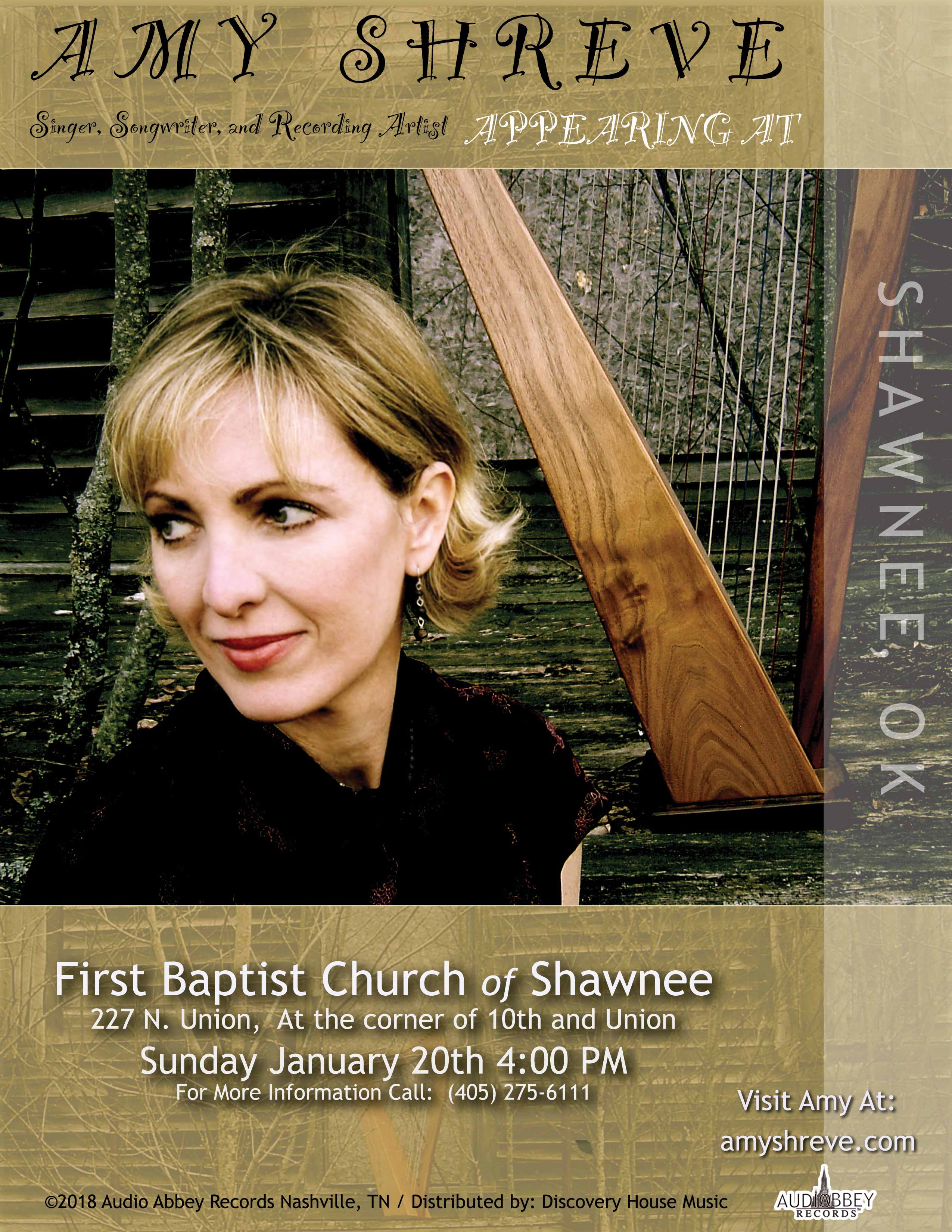 SAMPLE E-POSTER 2
We will also design the poster with your direction
You can:
Print out and place • send to email lists • post on social media • add to website
300 dpi @ 8.5 x 11 inches